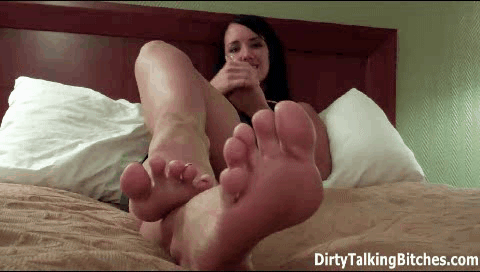 share gif:
Mandy Taylor is a classically beautiful fetish babe who knows a thousand ways to drive a man wild. Get ready for the time of your life with this super kinky fetish babe Mandy Taylor because you've never been with a girl quite like her before.

Boy, my feet are time from standing up all day. I can't wait to take off these stinky socks. There we go, much better. Wow, you have a huge boner right now! Is that just from see me take off my socks and smelling my stinky feet? You are a real freak aren't you? Well why don't you come here and get a closer look?

Does the smell of a woman's feet after a long day really make you hard? Then how would you like it if I rubbed my soft stinky little feet all over your face? After you get a nice big whiff you can start popping each one of my toes in your mouth and sucking them nice and hard. Maybe if you do it good I can slip these little feet down your chest and give you a footjob for the effort.
- Mandy Taylor